As I write this, Leslie, Karen and I have just jumped off our regular Tuesday planning call. It's almost 10pm my time, but over in NYC the ladies are giving over their afternoons to focus on our next steps – a big, hefty and somewhat daunting list is drawn up, broken down, rebuilt and scrutinised. Unlike most of our Tuesday sessions where we just focus on the progress of development and check-in with our weekly growth (hi new users, we see you!), our conversations this fortnight are all about looking further out onto the horizon.
We're coming out! (of BETA)
After just over a year of development, our little app is heading into it's next phase that will mark the end of our BETA. We'll still, of course, be testing the app and getting feedback from our users, but from a system perspective the full foundations are now almost complete for the big move to becoming a software-as-a-service (SaaS) platform. What you won't yet be able to see, but will be released over the coming weeks, are all of the new functionality changes we've been making to the site to help make it more efficient, to make sure searches are quicker and that finding the right images is even easier than before. In line with all these new changes, we'll be launching three new account plans: Discover, Creative Pro and Enterprise.
There's a lot more to say about the plans and the upcoming features, but I'm not going to spoil the surprise now. What I will say though is that we're finally ready to launch the version designed for teams, for collaboration and for making smarter choices about how you manage your licensed creative content. To me, that piece is hugely exciting because we're no longer just a tool to find great creative content, but we're supporting teams and their ability to work with integrity and security – finding licensable content, retaining those licenses and managing your team, client interaction and workflow.
Anyway, that's enough for right now. I'm going to do another post in a few weeks on where we're heading and hopefully we'll be looking at detailing the new features around that time too.
In the meantime, happy searching!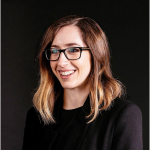 Natalie Burns is the VP Strategy at iSPY Visuals, Inc., a search one and done aggregation tool for visual content. In the daytime, you'll find Natalie working as a Strategist at the branding agency, Pixeldot, hosting and moderating events that celebrate women in technology and advocating women's rights and voter engagement through projects like What Women Want 2.0. Prior to Pixeldot, Natalie was co-Director of an international technology company and began her career at the intersection between technology and photography.
Connect with Natalie: Twitter | LinkedIn | Angel List