Sat in Cipriani Dolci in 2015, on the West Balcony inside Grand Central Station, in my favourite city in the world, I spotted Leslie on her phone.
Five years on since we'd first met, I'd dropped Leslie a message to see if she fancied catching up over coffee. We'd a lot to talk about.
In 2010, I'd graduated from the then Arts Institute at Bournemouth (now Arts University Bournemouth) having studied commercial photography and had made my way across the pond to work for the marvelous Karen d'Silva (now our head of Content & Creative) as her assistant a few days a week. The rest of my time was split between working at a boutique stock agency, WIN-Initiative and then spending the weekends assisting photographers like Bob Carey and Brett Beyer. Under the wing of Chrissy Reilly, who was pretty much the glue at WIN.  I went to every photo event the city had to offer. We stacked up business cards and cocktails – and yet somehow I always managed to stay awake on the L train back to my weird Craigslist flat in Brooklyn. Over the 90 days I spent in the city, I had not only learnt a huge amount, but had developed a reputation for being the Brit who knows about the internet and this thing called social media.
Having begun the laborious and expensive process of talking to lawyers about a longer term working visa, the notion was canned when a better job opportunity came about at Orange Logic – the then leading provider of digital asset management and digital rights management software.
My relationship with photography was very quickly transforming into phototechnology.
The job was a steep learning curve; not just about agile technology, software as a service, and rights management, but about my own ability to learn, adapt and overcome. I quit, repatriated to the U.K and began going it alone. As Leslie said in her own post, life goes on.
So when I met Leslie in 2015, I was on a recce trip back to New York, but this time to learn about the challenges and opportunities for an international development company looking to open it's doors to the US market. My then business partner and I were exploring the city's digital scene, meeting others who had successfully bridged the Atlantic divide and soaking up as much as we could to take home and consider. Our business, a development agency with offices in the UK and Thailand, had started to flip the script. We were no longer just developing discreet projects for clients, but we'd started to take equity in startups – becoming their remote CTO and working in partnership with them to grow and fund their businesses.
Hearing about our setup, Leslie began to tell me about her idea for an app that would help creatives find great content faster by simply providing the facility to search multiple providers all in one place. Having seen my own team of creatives struggle to find the right shot so many times before, I knew firsthand how long it could take to source a single, licensable image for a creative campaign. If you haven't ever been tasked with searching for a good stock image, I can tell you with great certainty that it is a pain in the arse. It's a laborious process of flitting between one stock library and another – do they have the right content? How much are their images? Can I make a lightbox for my client with images from more than one provider? No. What a drag.
When I first heard the idea for iSPY, I was already sold.
My team got to work building the prototype and soon enough, we launched the Beta to a small group of friends, investors, peers and early adopters.
Since the launch, my day job has changed again. After a little over two years in the exclusive world of technology, I craved a broader creative scope, made my peace with my business partner and left the company building iSPY to join the senior team of a branding agency. It's been a great transition personally, but it's also been fuelling iSPY. In the world of branding, stock images are traded almost continuously – so it's been an amazing opportunity for me to sit client side and experience the real need our iSPY customers have for this product we're building.
I know we need iSPY, because I need it – and I'm motivated to keep improving it.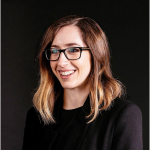 Natalie Burns is the VP Strategy at iSPY Visuals, Inc., a search one and done aggregation tool for visual content. In the daytime, you'll find Natalie working as a Strategist at the branding agency, Pixeldot, hosting and moderating events that celebrate women in technology and advocating women's rights and voter engagement through projects like What Women Want 2.0. Prior to Pixeldot, Natalie was co-Director of an international technology company and began her career at the intersection between technology and photography.
Connect with Natalie: Twitter | LinkedIn | Angel List